Here Is Who Is Presenting AZ Audit Findings
The results of the Arizona audit will be released Friday, August 24th.
This will be live-streamed.
Here is the list of presenters.
FOR IMMEDIATE RELEASE: Presentation of the Maricopa County election audit

Watch LIVE this Friday➡️https://t.co/klGDB0yQAU#AZSenate #ElectionAudit @FannKfann @votewarren pic.twitter.com/fJemaUQrfL

— AZSenateRepublicans (@AZSenateGOP) September 22, 2021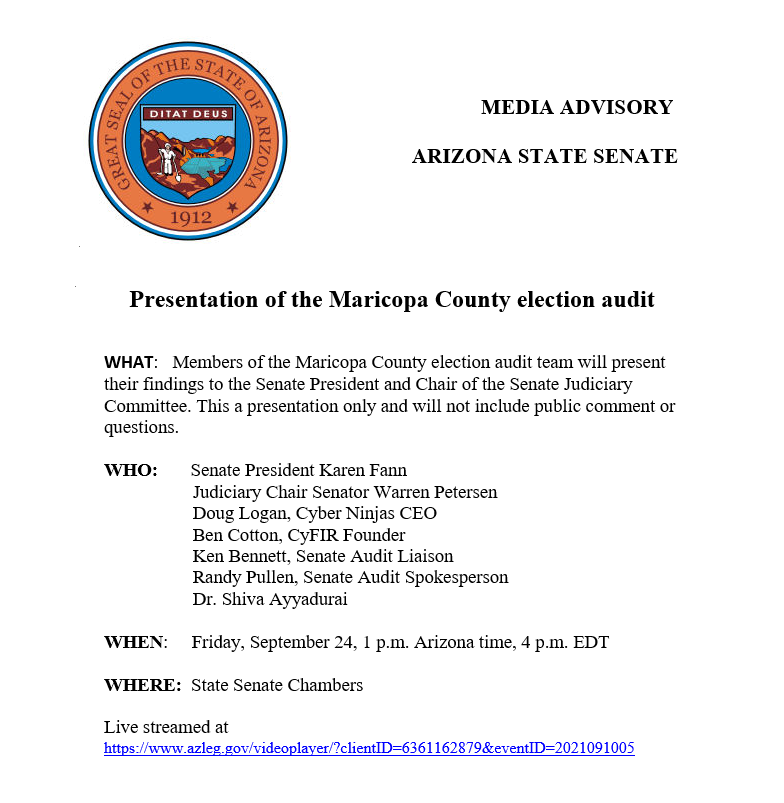 Rasmussen pointed out a surprising name on the list:
2020 Election Integrity: Arizona – Senate Forensic Audit – Presentation of Preliminary Findings on Friday

Whoa. Dr. Shiva. Now *that* is all new. https://t.co/fpAvZHRpTT

— Rasmussen Reports (@Rasmussen_Poll) September 23, 2021
Join the conversation!
We have no tolerance for comments containing violence, racism, profanity, vulgarity, doxing, or discourteous behavior. Thank you for partnering with us to maintain fruitful conversation.