Report: Several Pentagon Officers Willing To Testify Against Gen Milley Under Oath
Did you know the Pro Patriot News homepage has 60 new headlines every 24 hours? Click here to check it out!
General Milley is in trouble.
BREAKING: Several Pentagon officers present in Milley's secret meeting are willing to testify against him under oath, per WH official

— Jack Posobiec 🇺🇸 (@JackPosobiec) September 14, 2021
Advertisement
According to a new book, General Milley held a secret meeting on January 8th undermining Trump.
He ordered his staff not to take orders from Trump unless he was involved.
BREAKING: Gen. Mark Milley Held Secret Pentagon Meeting, Told Staff Not To Take Orders From President Donald Trump Regarding Nuclear Weapons: Report – https://t.co/gYyydRLcr7 pic.twitter.com/dXYkZbZsmH

— Breaking911 (@Breaking911) September 14, 2021
Two days after the January 6th riot at the United States Capitol, Joint Chiefs Chairman Gen. Mark Milley secretly took action to keep President Donald Trump from ordering the use of nuclear weapons.

The revelations come to light in Bob Woodward's new book "Peril."

"You never know what a president's trigger point is," Milley reportedly told his staff.

According to CNN, who reviewed the book, Milley 'called a secret meeting in his Pentagon office on January 8 to review the process for military action, including launching nuclear weapons. […] Milley instructed them not to take orders from anyone unless he was involved.'
He even talked with China and promised them that he would call ahead if there was going to be an attack.
"Milley pledged to alert his counterpart in the event of a U.S. attack, stressing the rapport they'd establish through a backchannel."

"If we're going to attack, I'm going to call you ahead of time. It's not going to be a surprise." https://t.co/hvji28vqV1

— Phillip Nieto (@nieto_phillip) September 14, 2021
Trump responded to the revelation with a blistering statement:
"If the story of "Dumbass" General Mark Milley…is true, then I assume he would be tried for TREASON in that he would have been dealing with his Chinese counterpart behind the President's back and telling China that he would be giving them notification "of an attack."

The good news is that the story is Fake News concocted by a weak and ineffective General together with two authors who I refused to give an interview to because they write fiction, not fact. Actions should be taken immediately against Milley

and better generals in our Military, of which we have many, should get involved so that another Afghanistan disaster never happens again. Remember, I was the one who took out 100% of the ISIS Caliphate. Milley said it couldn't be done!

attacking China—and China knows that. The people that fabricated the story are sick and demented, and the people who print it are just as bad. In fact, I'm the only President in decades who didn't get the U.S. into a war—a well known fact that is seldom reported.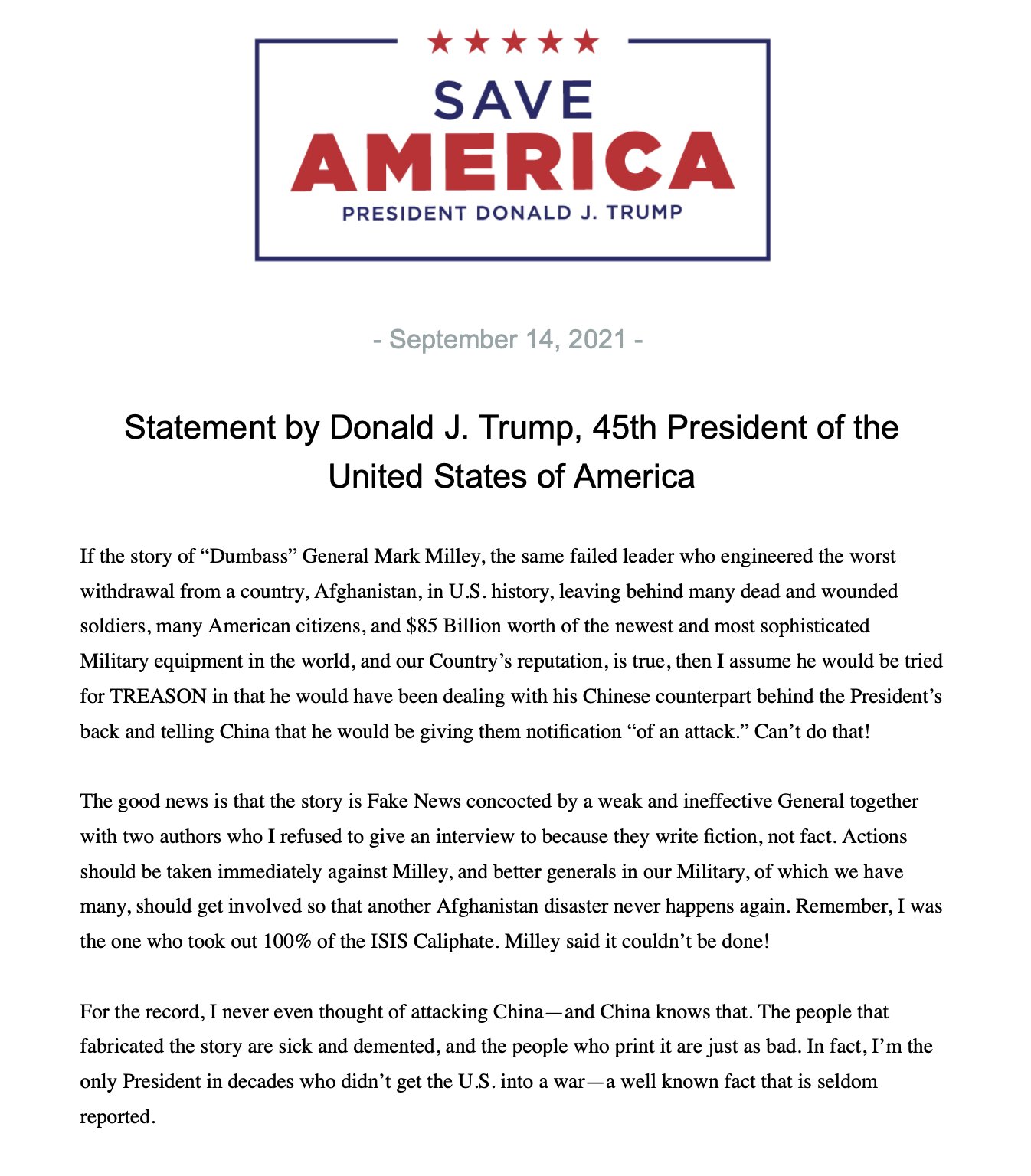 Advertisement